Thanks to all those who entered – here are the winners and runners up.
Years 7 – 8
Winner
Luiza Nakandakari Goya
Runners Up
Lottie White
Rayan Hassan
Magdalena Borowiecka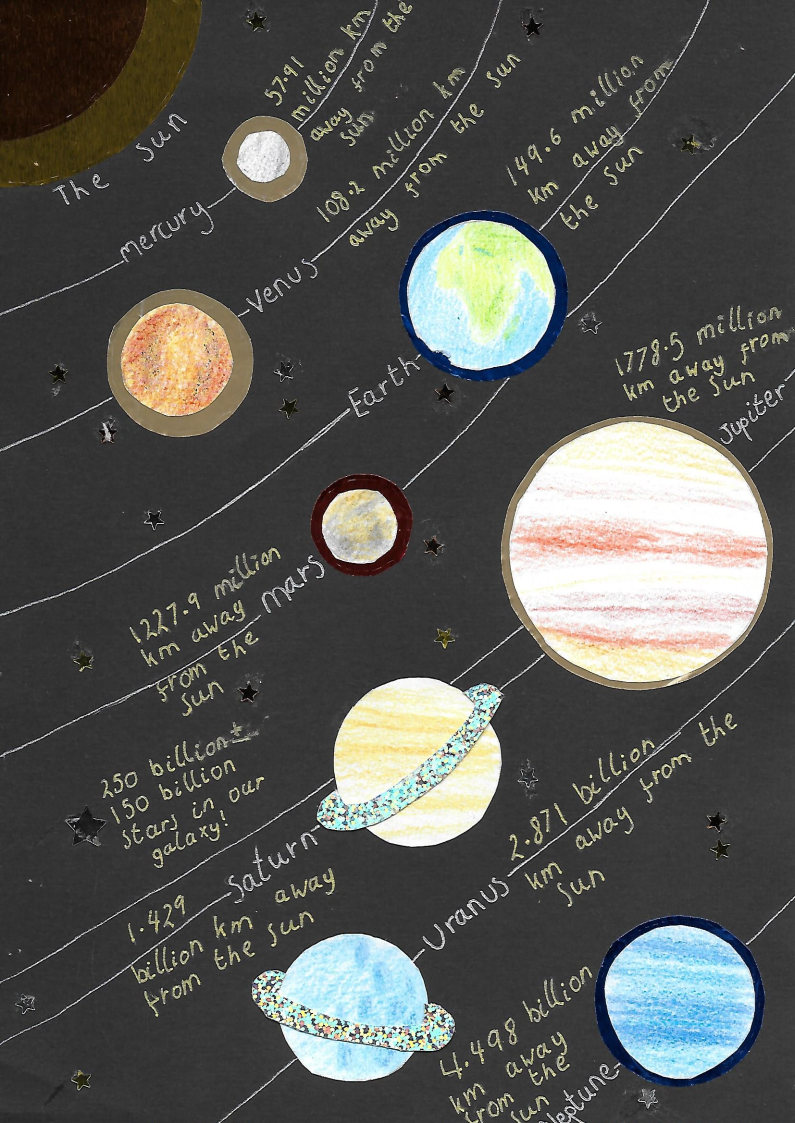 Deandra Brown
Kathrine Wood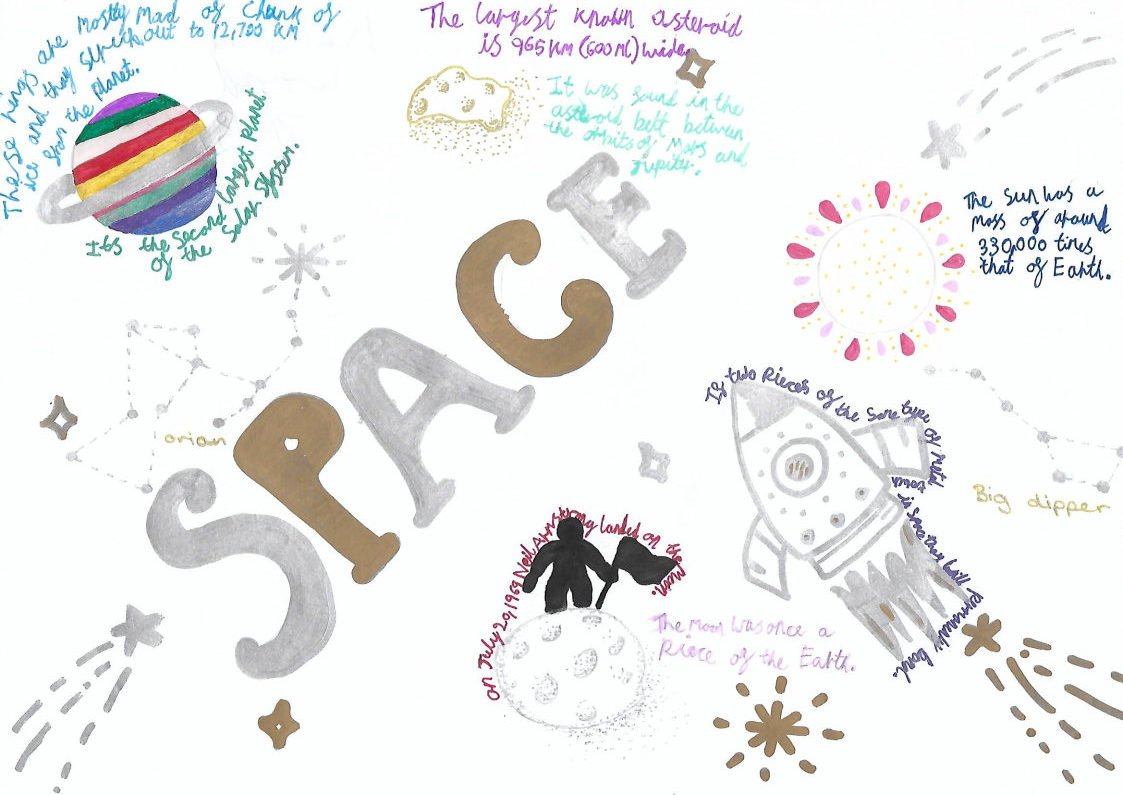 Miah Granda
Years 9  – 11
Winner – Amber Montgomery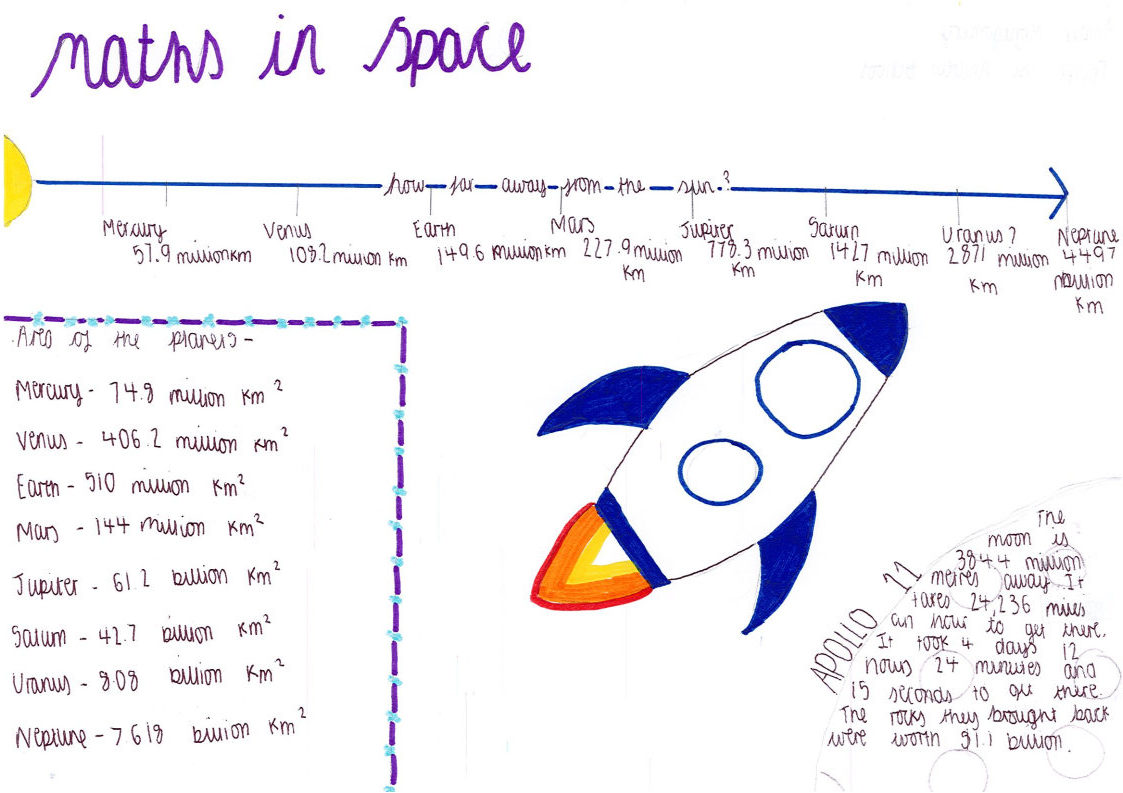 Bailey Duffield
Poppy Yallop
Teigan Mendham
London Scroggins
Celebrating the 50th Anniversary of the Moon Landings
It is fifty years since the first Moon Landings. To celebrate this incredible moment, we want you to make a poster aimed at showing people some of the amazing Maths of Space.
Your poster can be about any aspect of the 'Maths of Space' – you don't have to choose the Moon Landings (unless you want to).
We want your posters to be eye catching and informative – they should really have the wow factor.
Poster instructions/criteria:
Your poster should focus on the Maths of Space
It sounds obvious, but your poster should be a poster – i.e. it shouldn't be an essay, it needs to be visually eye catching and should give out a strong message, whilst still being informative.
You can draw your poster by hand; use a computer; or a mixture of both. If you draw your poster by hand try and use bright felt tips or pens – it will help it stand out when it is scanned in.
Your poster must be A4 size, and must be flat (no flaps/raised sections).
Poster Guidance
To get you started please take a look at this Powerpoint.
For online entries – your poster must be in PDF format

For paper entries
Your poster must be A4 size only
Please clearly mark your name, year, and school on the back of your poster
Please do not attach anything to your poster, for example, beads, sequins, or 'open the flap' features (like this example)
Judging
There will be three categories for judging:
Years 7 and 8
Years 9, 10 and 11
Years 12 and 13
If you need to calculate your Scottish school year use the table below.
The winning posters from students in each category will receive an Android tablet. There will also be five 'highly commended' certificates awarded in each group.
All winning and highly commended posters will be on display on the MathsCareers website.
The closing date is Friday 10th January 2020
Winners will be announced here at the end of January 2020.
To enter complete the form below:
or post your entry to:
MathsCareers Space Poster Competition
IMA
Catherine Richards House
16 Nelson Street
Southend
Essex
SS1 1EF
If you are a teacher and wish to submit a large number of entries please send them as a zip file to mathscareers@ima.org.uk
---
Poster Competition Rules
The promoters of the competition are the sponsors of the Maths Careers website
It is a condition of entry of this competition that all entrants agree to these competition rules. By permitting their children to enter the competition parents and guardians shall be deemed to consent to the entries being submitted on the terms of these competition rules.
The competition is open to entrants between the ages of 11 and 19 who are residents of the United Kingdom.
No purchase is necessary to enter the competition.
There are three entry categories, based upon the ages of the entrants: Years 7 – 8, Years 9 – 11 and Years 12 – 13. One prize will be awarded for the winner of each category and there will be 'Highly Commended' certificates awarded in each age group.
Entries can be submitted via the relevant mechanisms on the www.mathscareers.org.uk website or posted to the MathsCareers Poster Competition, Institute of Mathematics and its Applications, Catherine Richards House, 16 Nelson Street, Southend-on-Sea, SS1 1EF.
Posters must be A4 printed size only. Postal entries will not be entered into the competition if they are any other size.
The poster must be solely the original work and the property of the entrant.
Any poster that has won a prize in another competition is not eligible and will be disqualified if entered.
Entrants may submit no more than one entry which must be made in their applicable age category only. Multiple entries will be disqualified.
The promoters' decision on all matters relating to the competition is final. No correspondence will be entered into concerning the judgement, administration or organization of the competition, including any assessment of the eligibility of any entry submitted.
Winners will be announced on the mathscareers.org.uk website in February 2020. Individual winners will be notified by the promoters before the end of February 2020
It is a condition of entry to the competition that entrants (or the parents or guardians of entrants) irrevocably permit the promoters and their licensees to copy, reproduce and publish entries in connection only with the promotion of and publicity for this competition and the winning entries.
The closing date for entries to the competition is midnight on 10th January 2020. Entries received after that date will not be accepted, displayed or judged.
No responsibility will be accepted by the promoters for entries which are lost, late, corrupted, incomplete, defaced, ineligible or otherwise do not comply with these rules (any of which may be deemed invalid at the sole discretion of the promoters).
The prizes are as stated in the competition rules. Prizes are non-refundable and not transferable. No cash alternative will be offered. The promoters reserve the right to substitute the prizes (or any part of them) for prizes of equivalent or greater monetary value if that is necessary for reasons beyond their control.
The promoters will not be liable for prizes that do not reach prize winners for reasons beyond the promoters' reasonable control. If prize winners cannot be traced after reasonable effort the promoters will dispose of prizes as they think fit without liability to prize winners.
The promoters reserve the right to cancel or amend the competition, at any time without prior notice.
This competition is governed by the laws of English and Wales and subject to the exclusive jurisdiction of the English Courts.
Featured image credit: Photo by History in HD on Unsplash