It can be really hard to choose what to study at university – especially if you are enjoying all three of your A-level courses.  Lots of students choose to study what is known as a 'Joint / Combined Honours' degree where they study more than one subject – for example they might take a degree in Maths and Economics.  Choosing a Joint Degree isn't a decision which should be taken lightly. There are many advantages to Joint Degrees, but also some potential disadvantages, therefore it is really worth doing some proper research before you take the plunge.
Joint Degrees aren't an antidote to not being able to make up your mind
If you choose to study for a Joint Degree it will mean that you won't study either of your two subjects to the same depth as a Single Honours student might have done.  For many students this is a choice they are happy to make, as they relish the prospect of studying two subjects rather than one, even if they don't get to the same depth with either. This means that you shouldn't choose a Joint Degree just because you can't make up your mind – it should be an active choice based on your passion for both subjects.
Pay attention to the detail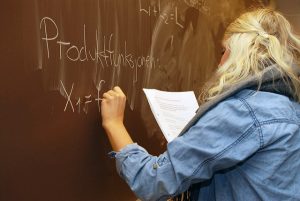 Joint Degrees can vary a lot between institutions, and even between different degree titles.  This is why you shouldn't just think that 'Maths and Physics' will be the same at every university.  Some Joint Degrees are taught where students follow 50% of each subject throughout all three years, whereas in other courses you might study maths 100% of the time in Year 1, before transferring over to the other subject. This is why it is worth scrutinising prospectuses and attending open days. Make sure that you are satisfied about the structure of the course before you apply.
It is very important to check exactly which module choices you will have. Sometimes studying for a Joint Degree will mean that you have fewer optional modules, as you will have compulsory modules from two different departments. It is essential that you check the module choices and that you are happy up front.
Look at the title of the degree
In particular look at the degree title.  At some universities any degree combination with an 'and' is a 50:50 split and a 'with' is 75:25. For example, BSc Maths and Computing could be half Maths and half Computing whereas BSc Maths with Business could be 75% Maths and 25% Business. This is the kind of detail you need to be clear about up front.
The admin side of Joint Degrees
One of the challenges of taking a Joint Degree is sometimes the administration side of things. If you are studying between two academic departments then you will potentially have assessment deadline clashes, meaning that you need to be organised if you want to study a Joint Degree. If however you are aware of these challenges before you begin, then you are more likely to be able to succeed. It is also worth considering which department will run your degree. Sometimes students can feel like they don't belong, as they are working between two departments. Once again, if you are aware of this beforehand, you can make extra effort to feel integrated into each department.
You also need to be aware that usually you will be studying alongside Single Honours students, as some students begin Joint Honours courses with the misconception that they will just be in lectures with other Joint Honours students.
Elective Modules
Many Single Honours degree courses offer what are known as elective modules. This means that a student can take some modules from outside their department without affecting the subject title of their degree. For example a Single Honours Maths student might be able to take an elective module in subjects as diverse as French, Computing or even Philosophy. This means that choosing a Single Honours degree doesn't have to limit your subject choices as much as you might think, and many students satisfy their desire to learn other subjects by choosing elective modules, rather than choosing a Joint Degree.
Subject choice

There are lots of options when it comes to combining Maths with other subjects.  Some of the most common subject choices include combining Maths with Computing, Physics, Statistics, Economics or Philosophy. It is really important to check out what each university is offering, for example Cambridge doesn't allow any Joint Degrees with Maths. It is really worth thinking about why you want to take a Joint Degree and what you might do when you graduate. For example if you choose Maths and Computing then you will be combining all important programming skills with maths knowledge, meaning that you should be highly employable.
Talk to some real students
Joint Degrees can be a great choice – just as long as you have looked at and accounted for all the potential downsides. Many students love their Joint Degrees, and it will be worth making sure that you speak to current students on open days who are already taking your prospective course. If you are fully aware of what your Joint Degree will involve, and you have researched the structure and module choices then you are much more likely to enjoy your time at university and get the most out of it.
Article by Hazel Lewis
Image credits:
Øving i samfunnsøkonomi by Faculty of Social and Educational Sciences@Flickr
201312_studying_lockers_6585  by University of Minnesota Duluth@Flickr